Beth Chapman Shared Memorial Ideas With Her Family Before Death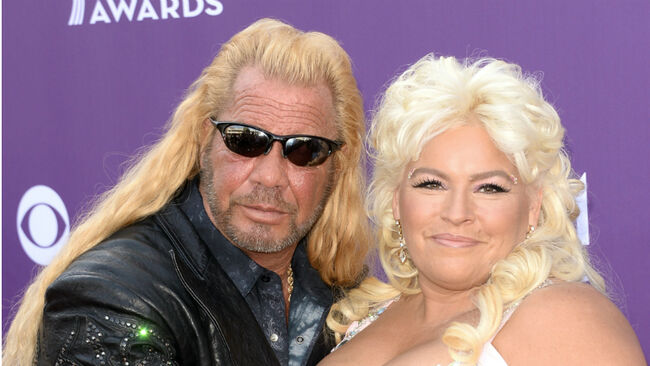 When it came to Beth Chapman's fight with cancer, she was hoping for the best but preparing for the worst.
While the Dog the Bounty Hunter star's death came fast, she made sure her family was aware of her wishes log before her passing. According to TMZ, her husband Duane "Dog" Chapman and their children "had several discussions with her about her memorial arrangements if she died." A source told the site, "Beth's talks with her family about what to do after her passing were not easy to have," but the family is glad they did it so they can carry out her wishes.
The insider added, since the couple has homes in Hawaii and Colorado, Beth laid out details for public memorial services, open to anyone who'd like to attend, in both places.
The 51-year-old's Hawaii memorial service will be held Saturday afternoon (June 29) at Fort DeRussy Beach in Waikiki, TMZ reports. It will reportedly include a Hawaiian chant known as an oli, a prayer, and a paddle out with family and friends in her honor. The site adds, "Beth's daughters say she loved Hawaii the most, so they're sending her off in fitting style." Dog is reportedly still finalizing the details for Beth's Colorado memorial service.
As fans know, Beth was hospitalized on Saturday (June 22) after suffering a choking incident, which led her to be placed in a medically-induced coma. However, the 51-year-old, who had been battling Stage 2 throat cancer since 2017, died Wednesday morning (June 26).
Dog confirmed the devastating news in a statement on Twitter. "It's 5:32 in Hawaii, this is the time she would wake up to go hike Koko Head mountain. Only today, she hiked the stairway to heaven," he wrote. "We all love you, Beth. See you on the other side."
He later told revealed Beth's final words in a press conference. "When she had an attack I didn't know anything to do but to say 'in Jesus' name' and hold her and when I said 'in Jesus' name' she said, 'Say it again, say it more,'" he tearfully told Hawaii News Now. "And then she told the girls and everybody, with her mouth — she came out of it a couple times — 'I love you' and 'Are you guys all okay? Don't worry,' but she never accepted it."
Photo: Getty Images